Researchers of aerosol technologies laboratory at NSTU take part in the International Conference EAC-2017
13 September, 2017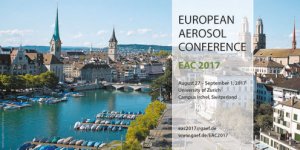 Staff of the Aerosol Technologies Research Laboratory at Novosibirsk State Technical University took part in the XX European Aerosols Conference (EAC-2017) held in Zurich, Switzerland, from August 27 to September 1.
The conference was attended by the head of the research laboratory of aerosol technologies Professor Philip Karl Hopke and his deputy, Doctor of Physical and Mathematical Sciences M.P. Anisimov.

The European Aerosol Conference (EAC) is the meeting place of an international research community working in the field of aerosol science and technology.