Students receive a high-quality technical education that meets the demands of employers in NSTU
18 January, 2018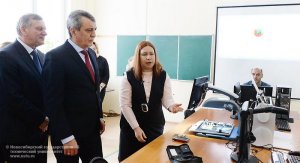 Authorized representative of the President of the Russian Federation in the Siberian Federal District, Sergei Menyaylo, visited one of the largest universities in the region - Novosibirsk State Technical University, where he got acquainted with the educational and scientific activities of the educational institution.
Within the framework of the visit to the university, the authorized representative S. Menyaylo got acquainted with the scientific and educational centers, visited the Institute of Social Technologies and Rehabilitation of NSTU. As the authorized representative of the head of state noted, the inventions of students and faculty members is unique and the high-tech products that are created here need to be inculcated into the Siberian economy.
Currently, NSTU graduates bachelors and masters in 95 programs, 5 specialist programs, 62 postgraduate programs and 122 professional development and professional retraining programs are being implemented. Over 1,5 thousand instructors work at the university, more than 14 thousand students study.