Regional robotic technical festival "RoboFest - Novosibirsk 2018" to hold in NSTU
17 January, 2018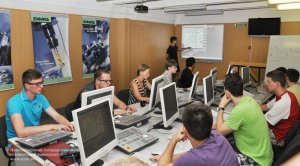 The regional robotic technical festival "RoboFest - Novosibirsk 2018" will be organized at Novosibirsk Novosibirsk State Technical University as part of the program "Robotics: Engineering and Technical Personnel of Innovative Russia" from January 18 to 19.
The festival in Novosibirsk will be a selection event for the X All-Russia Robotic Festival which will be held in Moscow on March 7-9, 2018.

The selection will be conducted in the following areas: JrFLL, FLL, "Hello, Robot!" LEGO, "Hello, Robot!" Open, RoboKarusel, ICAR, ICaRenok.
Robots on the followed platforms will participate in the competition: LEGO WeDo, LEGO Mindstorms, Arduino, TETRIX, TRIC, Raspberry Pi.

Organizers of the event: Engineering Lyceum of NSTU (partner of the Robototechnics program) in cooperation with the Novosibirsk State Technical University and the Moscow City Computer Center City Information Center "Egida" with the support of the Education Department of the Novosibirsk City Hall.