The participant of the NSTU training center 'Confucius Institute' won the Chinese Proficiency Competition for Foreign Students
15 August, 2018 15:23:00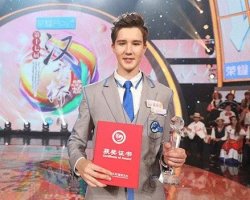 Geng Liping — the Consul General of the People's Republic of China in Ekaterinburg congratulated the NSTU rector Anatoliy Bataev and the NSTU training center 'Confucius Institute' on the victory of Ruslan Ustinov in the Chinese Proficiency Competition for Foreign Students 'Chinese Bridge'.
The Chinese Proficiency Competition for Foreign Students 'Chinese Bridge' held by the Confucius Institute Headquater in Hanban is the most popular, mass and prestigious international competition for the students of Chinese Language. Since 2002 the geography and number of participants has immensely grown. This year it has been the 17-th competition which involved about 100 000 contestants from more than 110 countries.
The contestants must demonstrate high Chinese Language Proficiency as well as knowledge of Chinese culture and history. The competition procedure included: written task, oral presentation, answering questions about China, creative task on Chinese culture. The competition is not only an important event for language and culture learners, it is also a bridge of Chinese youth to other cultures, which help young people to understand world's diversity and multiculturalism.
The elimination rounds are held from March to June, and then follow preliminary national competitions. The winners of preliminary competitions come to China for the final round. This year there were 152 participants from 118 countries. The final round lasted one month, and 5 students representing 5 continents were chosen. Ruslan Ustionov was one of them.
On August, 4 the knockout round and closing ceremony were held. The slogan of the competition 'Chinese Bridge 2018' was 'One World – One Family'. The round procedure consisted of the three tasks: 'I am the connoisseur of China', 'Historical events from China and other countries' and 'Closing address'. Ruslan got the highest score.
It was the first time in the history of the competition 'Chinese Bridge' that Russian student became the winner. And that student studies Chinese at the Confucius Institute Center of NSTU. He was also awarded honored titles 'The Envoy of the Chinese Language' and 'The Chinese Language Star'.