Irina Skalaban, Doctor of Sociology (NSTU) gives public lecture in the Cycle of Lectures 'Pyl.Science'
17 September, 2018 16:32:00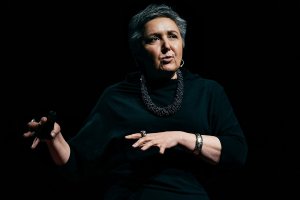 The Novosibirsk Information Center for Atomic Energy and the theatre 'Stary Dom' announce the public lecture by Irina Skalaban, Dr of Sci. (Sociology), Associate Professor of the Department of Social Work and Social Anthropology of NSTU. The topic of the lecture 'Urban Conflict: Safety or Diversity?" covers such burning issues as driving forces and causes of urban conflicts. The lecture will be held in the "Peremen" book store at 19.00, on September, 18.
All topics of the Cycle of Lectures 'Pyl.Science' are connected with the documentary performance 'Pyl' (which is translated as 'Dust') staged by the theatre 'Stary Dom' in the new theatrical season. They include Architecture, Urban Studies, Sociology, Archeology, Folklore, New Technologies, Neural Networks and other topics. The lectures have already been given by the biologist Sophia Panteleeva, the architect Igor Popovsky, the movie critic Aleksey Kozhemyakin and the local historian Igor Maranin.
The documentary performance 'Pyl' explores the historical and mythological context of Novosibirsk through interviewing its citizens. The Director Michail Patlasov is known to have staged the play 'Chuk and Gek' on the New Stage of Aleksandriysky Theatre in Saint-Petersburg. The production received the prestigious award "Golden Mask' in the nomination of "Minor Form Production".