NSTU students and school learners made night vision devices at the international forum 'Technoprom-2018'
12 September, 2018 12:03:00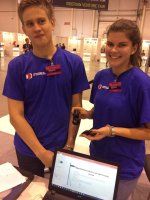 The program of the international forum 'Technoprom-2018' included Novosibirsk Governor Cup competition on 3D technologies. The team competition assignment in the contest group 'Electronics' was to make night vision devices.
The 3D competition (Olympiad) was held in Novosibirsk as a part of the international forum 'Technoprom-2018' in August. The Governor of the Novosibirsk region Andrey Travnikov welcomed the participants. Each competing team was supposed to make a night vision device of their own design and parts provided by the 'Katod' company, which included object lens, evacuation unit and other necessary parts.
The team consisting of Anton Jupashevskiy, a student of NSTU and school learners Polina Shashkova and Andrey Veize both representing Gymnasium №9 named after Mikhail Nemytkin, the Hero of Russia won the Novosibirsk Governor Cup competition. During the event the contestants acquired not only new knowledge and gained new experience but received extra score to add to the exam results on entering NSTU.