Flagship NSTU to teach lean production to the heads of Novosibirsk Oblast enterprises
20 December, 2018 14:29:00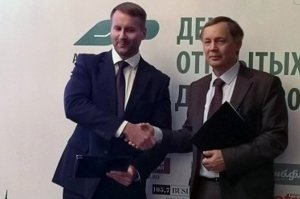 Flagship NSTU signed the agreement on cooperation with the Agency of Investment Development of the Novosibirsk Oblast on December 18. 
The Investment Development Agency (IDA) held an Open Day for the first time in Novosibirsk Oblast. The event gathered the representatives of the Ministry of Economic Development and the Ministry of Industry and Trade of the region, federal and regional business support funds, over 300 businessmen, as well as the first Vice-rector of the NSTU Gennady Rastorguev and other University staff.
There were more than 20 experts presenting on relevant business areas on the agenda: state support of investments and entrepreneurship in Novosibirsk Oblast, investment sites, opportunities to increase productivity at an enterprise. Additionally, the speakers, including the representative of Novosibirsk State Technical University, conducted 10 workshops.
Productivity increase attracted great interest. Seventeen Novosibirsk companies are included into the application for the regional program for productivity and employment increase . Now their list is being considered by the Ministry of Economic Development of the RF. Enterprises can get resources to optimize their production as a part of this program. This, in turn, creates a growing need to train managers and employees how to organize lean production. The event allowed IDA and NSTU to define the field for interaction. Lean-laboratory "Processes Factory" at NSTU will be used as one of the platforms for training in the production processes organization and improvement tools.
AO "IDA of Novosibirsk Oblast" represented by the CEO A.S. Zyryanov and NSTU represented by the first Vice-rector G. I. Rastorguev signed the agreement at the Open Day. Its subject is the establishment of a strategic partnership and the achievement of long-term effective and mutually beneficial cooperation for the training of the enterprises which participate in the regional program "Productivity Increase and Employment Support".
As a demonstration of NSTU competencies, Alexey Chuvaev, the head of Lean-laboratory "Processes Factory", conducted a workshop on the use of the SMED tool (quick equipment changeover).