Website Terms of Use
1. The website is operated by Novosibirsk State Technical University (NSTU) whose registered address is 20, Prospekt Marksa, Novosibirsk, 630073, Russia.

2. The data placed on this website by NSTU have been prepared for the purpose of informing international community about the University, its faculties, departments, activities and services.

3. The copyright in the material contained on this website belongs to NSTU.

4. The University reserves the right to change, amend, add to or remove the information placed on this website.

5. You may copy or download website materials for your personal non-commercial use provided that NSTU's ownership of the material is acknowledged. Any other use of the materials requires written permission of the University.

6. Links to third party websites are provided on the website for information only. NSTU accepts no responsibility for the websites linked.

7.Use of this website by University bodies is subject to the University's Rules and Regulations for Use of Information Resources.
Admissions Broshure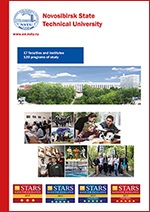 Preparatory department
curriculum:

教学计划 ( pdf)


교육과정 (pdf)


KẾHOẠCHHỌCTẬP (pdf)



ألمنهاج ألدراسي (pdf)

Programme d'Études (pdf)

Сургалтын толовлогоо (pdf)