Cultural life
The university provides students with the possibility to discover their talents, such as singing, painting, sewing, playing musical instruments, acting and photography. The NSTU Cultural Center is a place that unites all creative teams. It's situated in a special building.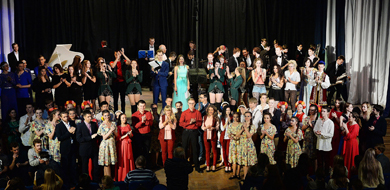 It can be named the best student center of Novosibirsk because of its long history and a good basis. The Cultural Center holds various festivals and contests: Student Spring, Student Fall, international jazz festival, rock festival, a city festival Fall Marathon, an interuniversity festival Theatrical Marathon, festivals of national cultures, a festival for the creative youth Art Revolution, the KVN (Club of the Funny and Inventive People) championship, exhibitions of fine and applied arts as well as photographs, numerous concerts of the groups from the Cultural Center, the city's universities, and foreign partner universities.
There are more than 20 student creative teams with 800 students and staff members involved in the Cultural Center. Many teams are laureates of international, All-Russian, regional and city-based festivals and contests. NSTU has been winning the first place on the regional festival of student amateur creative activity Student Spring in Siberia for 12 years now.
Y. A. Braginsky Academic choir
Vocal Studio
Academic Vocal Studio
NSTU Violinist Ensemble
Traditional instruments ensemble "Ekskliusiv"
NSTU Jazz band
NSTU Rock Club
Folk Ballet "Vtoroye Dykhaniye" (Second Wind)
Dance ensemble "Sibir"
Show ballet "Life"
Ballroom dance studio "Triumph"
Show ballet "Action"
Break dance team "The Most Action"
Fashion theatre "Paradise"
Theatre studio "Drive"
Theatre studio "Maya"
Song poetry club, creative studio "Tvoya Stsena" (Your stage)