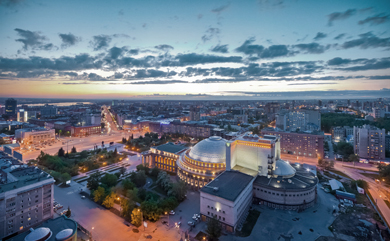 Novosibirsk is the personification of modern Russia. This is the city of more than 1.5 million people that is intensively developing and turning into one of the true Siberian pearls. This is the city of contrasts, where ultramodern business centers are tastefully combined with the wooden architecture of the last century; where industrial enterprises and residential areas stand side-by-side with pristine forests. It is a great place to live, to build a career, enjoy culture and entertainment. Intensive development of Novosibirsk was connected with favorable geographical location, crossing of water transport ways (the city is located on both banks of the river Ob, which is the navigable river) and the Trans-Siberian railway. This ensured the rapid growth of trade, banking and industry. In the Soviet period, this trend has become more popular largely due to industrialization and the status of the city as the center of the Siberian region, which allowed significant financial and economic resources to be concentrated in Novosibirsk. The impetus for the development of the city was the Great Patriotic war – during that time, factories and valuable objects of culture were evacuated from the Central parts of Russia to Novosibirsk. In the postwar period, Novosibirsk became one of the largest scientific centers of the country, thanks to the construction of Akademgorodok in 1958, which accepted 30,000 scientists from different cities of the USSR. Modern Novosibirsk is rapidly developing as a major industrial, scientific, trade and financial center. The main potential for the development of the economy of the Novosibirsk Oblast lies in attracting investment, including foreign capital, and the development of innovative, high-tech industries.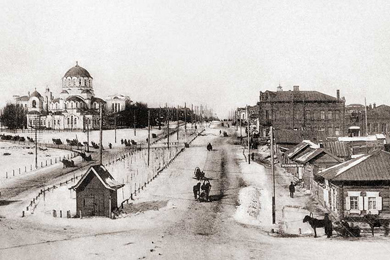 The history of Novosibirsk is connected with the Trans-Siberian railway construction. Thousands of people, engineers, workers, merchants and peasants from all over the Russian Empire are responsible for the city's birth. On April 30, 1893, the first builders landed near the old village of Krivoshchekovo to begin the preparatory construction work for building the railway bridge across the Ob. The construction was supervised by the engineer Grigoriy Moiseevich Budagov.
The settlement Alexandrovskiy, which was named after the Emperor Alexander III, grew with incredible speed in the area of the bridge construction. Then it was renamed in honour of the new Tsar Nicholas II to be called Novonikolaevskiy. Ten years later, in 1903, the settlement received the status of the town of Novonikolaevsk.
The name of Novonikolaevsk was changed to Novosibirsk after the Revolution of 1917, when the city became the capital of the Siberian region. This happened due to the fact that the Soviet Siberian capital could not bear the name of Tsar Nicholas II. November 17, 1925 the city of Novonikolaevsk was renamed to be called Novosibirsk.